Insight Spotlight: the UN's new Practitioner's Guide to Behavioural Science
According to António Guterres, UN Secretary-General: "Behavioural science is a critical tool for the UN to progress on its mandate. It can contribute to combating poverty, improving public health and safety, preventing and managing crisis, promoting gender and economic equality, tackling corruption, strengthening peacebuilding and all the SDGs. UN entities are strongly encouraged to invest in behavioural science and work in a connected and collaborative interagency community to realise its tremendous potential to achieve impact."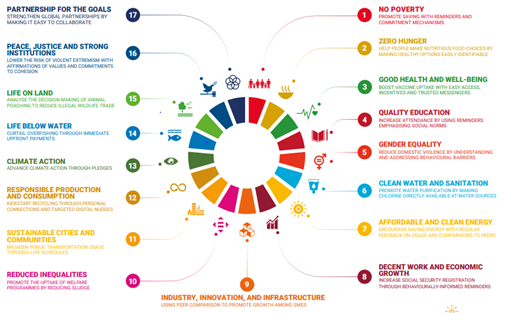 The United Nations Sustainable Development Goals
To support this goal and encourage colleagues to apply behavioural science in programmatic and administrative areas, the UN Behavioural Science Group of the UN Innovation Network, has recently published a "Practitioner's Guide to Getting Started with Behavioural Science".
The guide builds on earlier work and aims to provide a detailed introduction to the application of behavioural science, with lessons learnt from UN entities' experiences of applying it to policies, programmes and administration.
The free resource provides practical advice drawn from existing behavioural science toolkits, including a list of step-by-step guides for behavioural science projects. We're delighted that WWF's Save Nature Please behaviour change framework, co-created by our Insight Director, Belinda Miller, is included in the UN's guide.
As Belinda highlighted in her blog post, Save Nature Please also offers freely accessible, practical guidance enabling change-makers everywhere to apply behavioural insight to influence the decisions of citizens, business leaders, policymakers and partners. Links to practical tools ensure the framework is easy to apply, and examples from WWF and beyond show the impact of applying behavioural science in practice:
You can download the UN's new Practitioner's Guide here, and the WWF Save Nature Please framework here.
And if you'd like to chat to Belinda about your own behaviour change challenges, drop her a line at belinda.miller@corporateculture.co.uk