1
Culture, purpose and values
The world of work is being transformed, as organisations strive to meet changing needs, and people search for meaning in their brand and employer choices.
In these turbulent times, we can help you become a more human organisation, to create united workplace and remote cultures, connect your people to your purpose and values, and achieve long-term business success.
We can help with
---

Plans, interventions and change programmes

Bring your culture to life, inspire colleagues and enable leaders to support change.

---

Organisational values

Develop human-centric values that resonate with employees, and are aligned to purpose and strategy.

---

Strategy and blueprints

Articulate your preferred culture and develop the roadmap to get there.

---

Clear, compelling narratives

Connect people to your purpose, with line of sight to day-to-day activities.

---

Behavioural frameworks

Make your values actionable, and guide choices to bring your preferred culture to life.
2
Employee engagement and experience
Employee engagement, an empowering work experience, and an authentic and compelling EVP and employer brand help colleagues to thrive and make positive impacts.
We can help you meet these increased expectations, optimise employee engagement, experience and decision-making power, and build trust in more human leaders, while attracting and retaining the best people.
We can help with
---

Engagement strategies

Identify actions and define interventions to tackle workforce challenges and priorities.

---

Amplified employee voice

Retain colleague connection, and drive and maintain two-way dialogue.

---

A compelling EVP

Create and embed an authentic and persuasive employee value proposition that aligns to your purpose, brand and culture.

---

Optimised employee experience

Create a positive employee experience in the workplace and throughout the colleague lifecycle.

---

Employer brand design

Bring your EVP to life through an inspiring employer brand and creative touchpoints.

---

Collaboration and innovation

Shape programmes and interventions that help join up and open up organisations, across departments and locations.
3
Internal communications
Great employee communications unite your people behind strategic goals, build trust, smooth organisational change, manage reputation, provide direction and inspire action.
We can help you create the more authentic, human conversations that support your brand and culture, and focus colleagues on meeting customer needs, while working more efficiently, sustainably and safely.
We can help with
---

Internal comms audits

Ensure your messages land and deliver the impact and outcomes you need.

---

Refreshed comms strategy

Align communication strategy to business goals to underpin your organisational journey.

---

Impactful campaigns

Bring your stories and messaging to life through compelling copy and design.

---

Inspiring stories

Shape beliefs, create conversations, and supercharge how colleagues absorb and share information.
Our easy-to-use, digital platform that helps you understand your current culture and create your preferred culture.
Product
The changing world of work
More than a third of employees looking for a new role say organisational culture is the main reason.
Employees who feel strongly connected to their culture are 3.7x as likely to be engaged.
Organisations that take a human-centric approach to transformation are 2.6x more likely to succeed.
Co-creating change initiatives with employees makes you 1.8x as likely to have a highly-engaged workforce.
Nine in ten HR leaders believe that to succeed, leaders must focus on the human aspects of leadership.
Colleagues who feel they belong are only half as likely to be looking to leave as those who do not.
You are more than 5x as likely to achieve high performance in a human-centric workplace.
Three-quarters of people believe that values and purpose are important when selecting an employer.
"Thank you again for your creativity, flexibility, support and client-focus. You've really listened to our needs and understood who we are. We literally could not have done this without you!"

Diane Moody

DSM Global Lead Organization Development
"We were delighted with the multi-phased campaign that Corporate Culture devised and ran for us over a nine-month period. It was a tough brief for them to hit the right mix of being instructive and engaging without being patronising and they achieved it perfectly."

Nick Hughes

Director of Marketing and Communications, SEGRO
"When we needed to create and implement an employee change programme to a very tight timeline, Corporate Culture rose to the challenge, producing solutions that were both creative and realistic, with the tools to roll out and keep the message alive."

Miles Watkins

Director of Sustainable Construction, Aggregate Industries Europe
"The benefit of working with Corporate Culture is their ability to shape the 'big picture', and then come up with great creative ideas and pragmatic campaign plans that enable that to become reality."

Mark Pendlington

Former Group Director of Corporate Affairs, Anglian Water
"Working with Corporate Culture was a great experience from beginning to end. The project met all of my expectations 'a thousand times over', and is one of our key successes, not just of the year, but even three years on."

Shaun Davis

Former Group Health & Safety Director, Biffa
"The high degree of consistency within the original values you put forward speaks to the quality of the process you guided us through, the quality of the work that you've done, and your resulting analysis. It's been a pleasure working with you."

Anne-Marie Coe

Former Associate Director of Internal Communications, BGL Group
"Amazing what can be done in very little time when everyone gets in the trenches together. The moment I knew we might just deliver this was sitting in the project room when your first version of the BCOP workbook was tabled – finally we saw a glimmer of hope that we could do something great."

Ian Spence

Programme Lead, Co-op
"It's been a pleasure working with you on our new cultural framework. Your brilliant mix of insight and creativity not only helped us to refresh and refine our values, behaviours and purpose and made it easier to bring to life, but also informed our new employee recognition strategy. It's great to see our colleagues engaging with the programme and understanding the role they play in living our culture by their day-to-day actions."

Chalese Bellamy

Head of Brand & Corporate Communications, MTR UK
"It was a very rewarding experience working with Corporate Culture to refresh our values and help our people connect with them. The exploration sessions were fun yet powerful, and it was a pleasure to see the values resonating so strongly, with colleagues eager to make their own values-related pledges. It has really helped us plan our future journey in a way that takes everyone with us."

Katie Wall

Head of Communications and PR, Wythenshawe Community Housing Group
We are in the middle of the biggest shake up in the world of work for 100 years. And it's increasingly evident that typical business models do not reflect these transitional times or our individual or social natures. We believe this is our collective opportunity to reimagine the world of work, and to reinvent the workplace as the Human Organisation.
Hot
topic
The impacts of global economic, social and political uncertainty are being felt keenly by organisations as many struggle to remain profitable, and meet customer and shareholder expectations. Many are also finding it harder to recruit and retain the skills and talents they need to remain competitive. Simultaneously, employee needs have shifted to place greater emphasis on flexibility, work-life balance and wellbeing in the workplace. How you can navigate these challenges, and help your organisation to thrive?
Hot
topic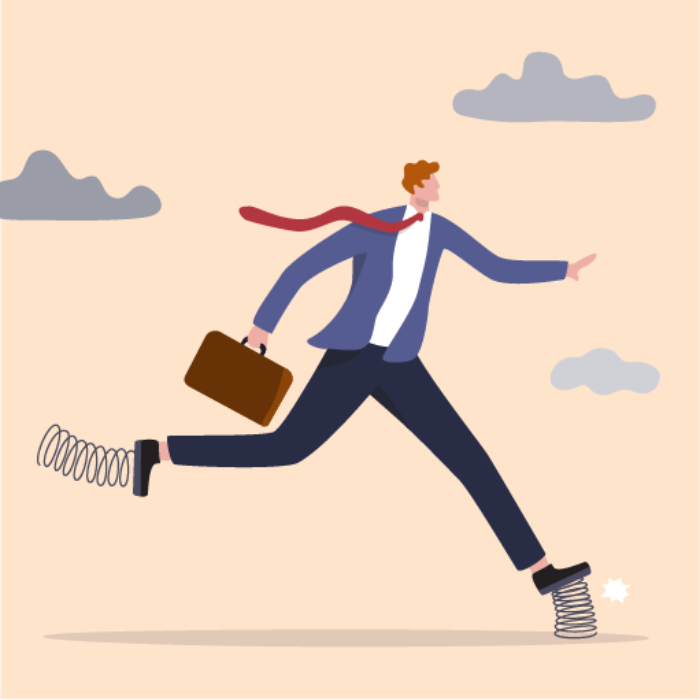 There's never been a better time to act. New research from Deloitte highlights a general expectation amongst global CEOs that market...
Work isn't working; current business models do not reflect these transitional times or our individual or social natures. There is now an opportunity to reimagine the world of work and reinvent the workplace as The Human Organisation. This groundbreaking report introduces a new workplace paradigm that is set to...
Report
How can organisations and governments best respond to the challenge of global public health emergencies, economic instability, geopolitical turmoil, and the climate crisis? Our new report 'Future proof: Eleven hacks to navigate uncertain times' provides essential support for organisations seeking to understand these complex external factors, define their preferred...
Report
Innovation for everyone: how to create innovative cultures Innovation doesn't just belong in a lab, or with people directly responsible for creating new products or services. Innovation is for everyone. It's for every colleague on every project, in every function of every organisation. Everywhere.This groundbreaking report – part two...
Report