Being a human organisation (part 6): Have creative intelligence
Welcome to part six of this nine-part series on how to be a more human organisation. In previous articles, we've looked at how Human Organisations understand people and our social nature, the need for a shared purpose, and the importance of grasping context. Now, let's examine the value of cultivating creative intelligence and generating ideas.
"There is one thing stronger than all the armies in the world,
and that is an idea whose time has come."
Victor Hugo
As Victor Hugo understood, we change behaviours through the power of ideas. Or, to put it another way, ideas lead to actions. Creating new ideas is about combining real-world observations with mental models.
A world built on ideas
The history of people is a history of ideas. We are surrounded by them. Ideas create our reality. The TV, the computer, the phone, music, books, tables, chairs, houses, cars, money, language, electric light, owning stuff, sport, communities, cities, nations. All are ideas.
When you are changing human behaviour, there are only two sources for ideas: evidence of human need, and that extraordinary human characteristic, imagination.
Let's look at a few of the most impactful creations of the human imagination:
Farming: Farming is an idea. For 2.5m years, humans were foragers. Then, about 10,000 years ago, we began to cultivate a small number of plants and animals. On the upside, it led to secure food supplies, an increase in population and, some say, prosperity and progress. On the downside, half of the fertile land on earth is now farmland. In the words of Sir David Attenborough: "70% of the mass of birds on our planet are now domestic birds – the vast majority chickens"1.
Nations: Nations are very powerful ideas, but that power is often steeped in the mists of myth. Borders are not static. They have changed dramatically in the past and will continue to do so. Relatively recent national identities include America, Pakistan and Iraq. People roam and will continue to roam.
Brands: Businesses are acts of collective imagination. As author Yuval Noah Harari points out2, a brand, like Peugeot, is what lawyers call "a legal fiction". In many ways, we are strangers that cooperate within the parameters of these imagined ideas.
Collaborative principles
"Fiction has enabled us not merely to imagine things,
but to do so collectively."
Yuval Noah Harari
Creating powerful new ideas is always collaborative. No one imagines a successful new idea and implements it in a vacuum. There are common principles to effective collaborations. Shared purpose, shared knowledge, shared methodology, mutual respect, a clear timescale, a diversity of ideas, and an open mindset.
Collaboration is always in the service of either 'activation' (bringing your strategy to life) or 'innovation'. Both require creativity. And yet, against this backdrop, do we really build creative intelligence as a fundamental part of running our organisation?
Clinical psychologist Simon Baron-Cohen attributes dramatic progress in how humans started to innovate to changes in how the human brain began to function around 100,000 to 70,000 years ago. In other words, part of our ability to innovate is built into our human nature. It's carved into our genes. We can't design it out, no matter how hard we try. What we can do is tap into it and improve how we innovate. We can do this in two ways:
Making connections: We make connections between people and we make connections between ideas. We make connections between people through empathy. We make connections between ideas by spotting patterns.
Following a process: Innovation is the result of a creative process. That's true whether you're planning a journey, cooking a meal or imagining a new product or service. The basic process is to gather evidence, discover insight, imagine possibilities, experiment and learn. One of the earliest known musical instruments is a flute carved from a vulture bone from around 40,000 years ago. How do we know if something works? You don't know until you blow.
On curiosity
We are curious by nature. We are like bees seeking food sources, scouting new lands, to bring back new ideas to the hive, to discuss and decide. Yes, it's an uncertain world. It always has been. Leonardo da Vinci welcomed uncertainty as an essential part of the creative process. He called it 'Sfumato', which translates as 'going up in smoke'. There's always smoke (or uncertainty). Einstein knew it, too:
"As our circle of knowledge expands, so does the circumference
of darkness surrounding it."
Albert Einstein
On the other hand, if we are curious, and prepared to explore and scout ahead, we can begin to see shapes through the smoke.
The mental model below can help you find the way forward. It's one of the tools we use to prompt ideation with clients. Give it a whirl: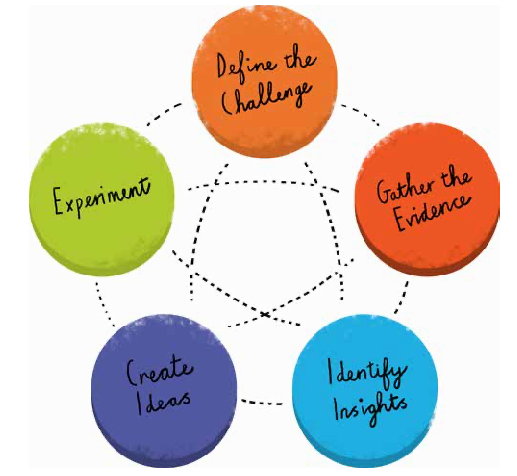 The Innovator's Sprint
Let's talk
As discussed above, this is part six of a blog series on the characteristics of the human organisation. While you wait for the next instalment, read all nine by downloading our report: The Human Organisation
And if you want a chat about how to make your organisation more human, and how to future-proof your business, drop me a line at John.Drummond@CorporateCulture.co.uk
Sources:
David Attenborough: A Life on Our Planet, Netflix (37-minute mark).
Sapiens: A Brief History of Mankind, by Yuval Noah Harari