Using behavioural science to design accessible transport
The transport sector plays a crucial role in connecting people to one another, and enables access to various opportunities and experiences. With the growing rate of urbanisation, we see the transport sector having to keep up; from expanding metro and tram lines, increasing the frequency of buses and trains, to installing cable cars that wind over the city1.
While we're rushing to think of ways to optimise transport technologies – by decreasing inefficiencies, and encouraging sustainability, through active travel – we also need to ensure that we're creating solutions that are accessible to all. The expanding range of transport facilities gives people more options and autonomy when travelling. However, this should not come at the cost of accessibility.
A 2023 report on 'Accessible and Inclusive Transport' found that people living with disabilities still find public transport inaccessible, inconvenient and overwhelming, citing these as the top 3 reasons they do not use public transport. The most prevalent barrier for buses was simply getting on and off; similar for taxis, trains, and ferries2. In addition to this, people with disabilities reported they struggled with: finding a space for wheelchairs on the tram (along with a lack of other mobility aids); navigating the airport; and finding, booking, and using micro-mobility and community transport modes.
Existing design models
There are existing models that serve as the pillars for accessible design, such as 'Universal Design', developed by Ronald Mace, an architect who championed barrier-free design. Universal Design stresses the need to design environments without the need for adaptation to any particular disability, i.e., the environment should be designed by default to be accessible, so it can be used by everyone. It has 7 main principles3:
Equitable use for all by avoiding segregating users
Flexibility by providing choice in methods of use
Simple and intuitive design, including consistent feedback
Communicates information that is compatible to all sensory abilities
Minimize hazards by providing fail safe features for unintended actions
Low physical effort
Appropriate size and space for approach and use.
Singapore is considered one of the most accessible countries in the world (see Figures 1 and 2). To prepare for its steadily ageing population, it implemented Universal Design into the development of new facilities, and upgraded its existing public buildings, while also providing refurbishing funds to the private sector. This was coupled with delivering design courses, exhibitions and awards4. All of Singapore's subway stations have priority lifts with audible and visual indicators that extend to the platforms, tactile wayfinding, and accessible toilets; and all buses, bus stops, and taxis are barrier free5.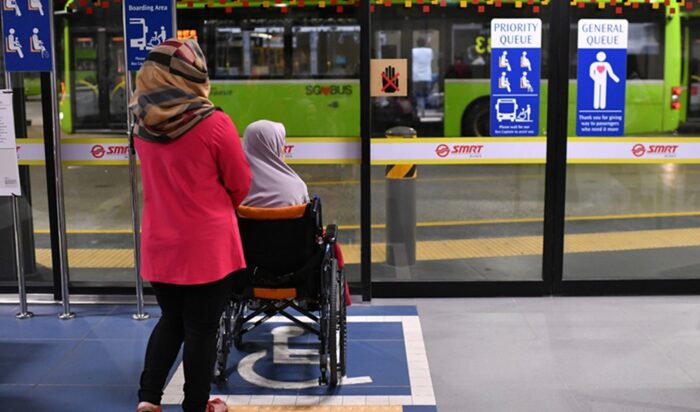 Figure 1. All public buses are wheelchair accessible in Singapore8.
Many cities and countries such as South Africa, Mexico, San Francisco and Spain have also made great efforts in making their transport systems more accessible6.
Behavioural science models
Behavioural science facilitates behaviour change by drawing learnings from neuroscience, behavioural economics, psychology, and sociology to understand human decision-making. There are various models that stem from this multidisciplinary field, one of which is the COM-B model from the behaviour change wheel7, which can be applied to transport solutions.
The COM-B model is an evidence-based framework for understanding and influencing behaviour with a focus on three factors that contribute towards behaviour change. These are Capability, Opportunity and Motivation, which help establish the barriers to or drivers of behaviour.
Capability: Does this form of transport have the capability to support people of all needs?
Usually, when looking at capability we seek to either increase knowledge or provide training to change people's behaviour. However, in the case of transport we must instead focus on how we amend systems to appeal to people of all capabilities. We can do this by addressing the journey step by step to understand where the biggest barriers are. As we can see in the survey mentioned above, it is still difficult to get on and off transport – we need trained staff and proper infrastructure in place to address this, for example by ensuring there are audio and visual announcements made not only in the (e.g.) bus, but outside at each bus stop.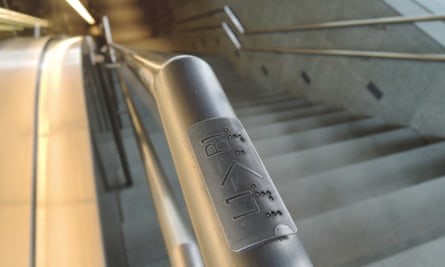 Figure 2. Directions in braille on the handrails of the CapitaGreen office block in Singapore8.
Opportunity: Does this form of transport offer the opportunity to commute to people of all needs?
We need to give people with different abilities more opportunities to take public transport. This requires the principles of Universal Design at the heart of planning and solutions. For example, are there appropriate wayfinding apps for people with all abilities, and are the schedules updated in real-time? Is the booking system streamlined? Are the paths to and from public transport accessible?
Motivation: Is this form of transport appealing to people of all needs, and are they motivated to use it?
Addressing the capability and opportunity factors should naturally lead on to motivation. People with disabilities need to feel confident and secure of the systems in place to encourage travelling on public transport.
Moving forward together
The journey to making all transport accessible has to have direct involvement of people living with different abilities. Ronald Mace, the founder of the Center for Universal Design, was a wheelchair user himself, and developed America's first accessible building code. Understanding the lived experiences of people with different abilities is crucial to not only identifying challenges but designing effective solutions.
Developing accessible transport supports employment, creates safe transportation for all, promotes healthy and sociable living, and contributes towards a more inclusive society, where individuals of all abilities are given equal opportunity to thrive. Using our understanding of human behaviour and accessible design systems, we can develop solutions that ensure mobility and autonomy is a viable option for everyone.
To discuss how your organisation can design more accessible forms of transport, or to tackle any behavioural science challenge, just drop me a line at Aakanksha.Ramkumar@CorporateCulture.co.uk
References:
https://iuk.ktn-uk.org/wp-content/uploads/2023/03/InnovateUK_Accessible-and-Inclusive-Transport-Report_Screen_9-3-23.pdf
https://www.clc.gov.sg/docs/default-source/urban-solutions/urb-sol-iss-6-pdfs/case-study-singapore-no-more-barriers.pdf
https://www.un.org/disabilities/documents/desa/good_practices_in_accessible_urban_development_october2016.pdf
Michie, S., Van Stralen, M. M., & West, R. (2011). The behaviour change wheel: A new method for characterising and designing behaviour change interventions. Implementation Science, 6(1).https://doi.org/10.1186/1748-5908-6-42